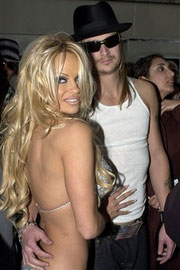 So what would force Pam Anderson to divorce
Kid Rock
after just three months of marriage? Borat, of course. Or at least Pam's role in the Borat movie, which Kid saw for the first time when a private screening has held for Kid, Pam and some friends two weeks ago. A friend tells
Page Six
:
"Bob (Kid Rock) started screaming at Pam, saying she had humiliated herself and telling her, 'You're nothing but a whore! You're a slut! How could you do that
movie
?' - in front of everyone. It was very embarrassing. Pam thought he could have a sense of humor about the movie. She was in on the gag from the very beginning and loved doing the movie. And on the eve of what was supposed to be a very positive thing, he made it an awful night. Ever since, it has been icicles between them. Bob is just a very unhappy and angry man. Pam is very disenchanted and sad. You know, there are reasons why she never married him before. Those reasons disappeared while they were together on a boat in St. Tropez, but she knows now that they never went away. The reality is he is an insecure, angry man."
Um, really. The star of 'Joe Dirt' and 'Biker Boyz' is looking down on Pam because of her movie choices? And did it really take the Borat movie for Bob to realize that Pam is a slut? It's Pam Anderson. Pam doing something slutty is like a badger being mean or Jesus flying through the clouds and saving people. That's just what they do. Pam's been a slut for like 20 years now. If you showed me a picture of her with her legs spread, you'd have to include a football next to it for scale.